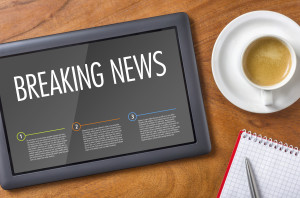 Media stories relating to particular legal practices break every day from all over the world.  In an ideal situation, you would ensure your law firm's website contained a regular news feed to boost your SEO and keep your clients informed of the latest legal trends that may affect their lives and business interests.
But who has the time to keep up with everything that is out there in a 24/7 media society.
We do.
Our Legal News Service
On behalf of our clients, we investigate news stories, social media, legal databases and blogs etc at the beginning and the end of every day, and if we see something relevant to your business, we will send the link to you. If you would like us to write a news piece based on the information, with your own unique spin on the matter,  then simply revert with a yes and we will have it to you within 24 hours (or less).
This is a seven day a week service in order not to miss anything that happens over the weekend.
Let us create an ongoing, up to date news feed for your law firm's website.  Call us today to discuss on 01767 600544.