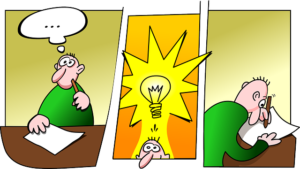 In part two of our blog series about starting a new blog for your law firm, we dealt with the often-overlooked concept of 'tone of voice'.  We established that carefully crafting your firm's tone of voice ensures consistency across the content read by your intended audience.  All too often we see web pages, blogs, breaking news pieces, and biographies which appear to swing from the serious and formal (and dare we say on occasions, dry), to the loose and overtly informal on the same website, which leads readers to become confused as to what the firm represent; is it friendliness and informality or seriousness and studiousness?
In this month's blog and part three of our series, we will delve into the question of 'what should I write about'?  Blog writing as a form of organic inbound marketing is ultimately about engagement, and to engage, you need to know a) who your audience is and b) what will pique their interest.  If you don't nail this, you will waste your time producing content that is not relevant to your audience, too pushy in terms of selling your services, not current, or just doesn't capture the reader's attention.
Target your audience like a laser
This is an obvious point, but one all too often forgotten.  Exactly who are you writing for?  Don't try to write blanket content to target all readers; your articles risk falling through the cracks and interesting no one.  Ask yourself, "what kind of clients so I want to attract?"  The answers to this question may be multiple and may vary according to the time of year, or current campaign or business strategy.
This is only the start; you then need to narrow down your audience further to ensure content is written with their needs at heart.  Anyone who watched 'Brexit – The Uncivil War' on Channel 4 will have seen how effective, careful targeting can be.  For example, if you wish to attract new immigration clients, ask yourself where they are, what drives them, how old they are, how can you save them time and money.  You might come up with an answer on the following lines:
High net worth clients
Seeking to invest in UK start-up businesses or existing companies
Typically based in China, India, and Russia
Aged 30 – 50
Smart, tech-savvy, and hungry for information
Ultimate goal is to obtain ILR
Repeat this exercise for all of the main prospects you wish to speak to – and then make sure you rotate your content such that you are speaking to each of these target 'archetypes' on a consistent basis.
Hook 'em Danno*
You want your content to be read and appreciated, and if you can find a 'hook', you have a greater chance of achieving this.  A hook is anything you can include at the start of the writing to make your reader want to continue.  For the average reader faced with reading what may be a dry topic, the lure of a paragraph which is more fun and less like work is enough to make them carry on reading.  There are many paths to achieving this.  One way to do this is refer to an item in the news and find a link between your topic and it.  For example, if Prince Harry and Meghan Markel are in the news because they have just moved into their new abode, and you want to write about the conveyancing, you can make a natural link.  At the Legal Copywriting Company, we like to add fascinating historical references, facts, or anything which allows the reader to escape to another time or world.
First to the post
Finally, when deciding what you want to write about, don't make the mistake of repeating the ideas of others.  Or if you must write a blog on something that has been covered several times over, find a completely new angle – something that will make yours stand out above the others.  Get there first, and don't be afraid of the pack leader.  Once audiences have read your post, they very likely won't bother reading the others.
You may, for example, want to reference a brand-new case decision and offer some analysis before anyone else does.  Fortune favours the brave: a well-timed, and incisive piece pushed out on social media will help establish your organisation as a thought leader.
In summary
One thing you will learn when studying writing is rules are made to be broken.  Regardless of what you have read here, the most successful strategy for writing an interesting blog is to write what you would like to read about.  Keep your audience in mind, but remember, ultimately, you cannot please everyone.  Write for you and your passion will come across in the post.  And that is what will make the reader pick up the phone and instruct you as their Solicitor.
* For those too young to remember, this is a reference to the 1970's US TV series 'Hawaii Five-0'
The Legal Copywriting Company is dedicated to helping law firms and barristers achieve their marketing goals by creating engaging, SEO friendly content for their website and marketing materials and managing their social media.  To find out more, please fill in our contact form or email corinne@thelegalcopywritingcompany.co.uk or phone 01691 839661.