Rest, Play, Nap and Achieve More
A few months ago, every time I opened my laptop to write a legal blog or webpage I wanted to cry.  For the first time, I found myself hating what I used to love.
Writing.
After a particularly exhausting week, walking back to Kings Cross station after a day of meetings, I found myself in tears to my husband, telling him the idea of writing copy for the rest of my life filled me with a leaden dread.
The I read Rest by Alex Soojung-Kim Pang.
This remarkable book completely changed the way I work and live, and helped me fall in love with my career all over again Read more
Why Parents Must Teach Their Children To Think
Golden Hill – The Best Book Of 2016?
Happy New Year to you! You would think as a professional legal copywriter who is constantly pushing the virtues of blogging, not only to my clients but my friends who own businesses as well, that I would be faultlessly consistent…
In our last series of blogs, we looked at how "content is king" in the world of SEO, and how your law firm can maximise this to greatest effect. In today's blog we are delving into tomorrow's world, which it…
When you come to designing your law firm's website, there are many aspects you need to take into consideration.  One of the most important will be your landing pages. These are the pages that Google will use to link a…
In the current era of Google (and we shouldn't forget Bing), any legal business that appears first, or close to first in search results when searched for are likely to have a considerable advantage over those that do not. But…
As a law firm there is really no better marketing way of getting your company name in the public domain than appearing in a Google search result page. As most people know however, this is only useful to you if…
Big Data!
BIG DATA! Most people have heard of the trend towards "Big Data" but there seems to be little understanding of what it is. At it's core is making sense of large and often disperate databases, to see completely new patterns…
Focus On Legal Topics, Not Keywords When Writing Legal Content
UK Law Firms Need To Start Embracing Podcasts
Do you want a cost-effective, simple way to connect with your existing and prospective clients on a totally different level?  Using a method that will make you stand out from the crowd of other law firms diligently blogging away?
Recently a client showed me a comparison of two different law firm websites – one was written with emotional language such as 'we understand', 'empathy' and 'sensitivity' woven into the content, and the other was composed in a more straightforward, direct style that lacked any emotional words.
Google's New Mobile Algorithm – What This Really Means For Law Firms
As most people will know by now, from April 21st, Google will release into the wild its new search results algorithm which will reward sites that are deemed mobile friendly, and penalise those that are not.
In practice, what Google's freshly updated robots are looking for sites that have a 'responsive' design. Simply put, this means that the site automatically detects the size and format of the client web device and automatically re-formats its format accordingly. Google bots will deem your site to be mobile friendly or not, there will be no shades of grey Read more
The Importance of Your Website's Legal Services Menu
Many legal firms have the look of their website pretty sorted. It's not unheard of to invest large amounts of money into making and maintaining a slick website design that captures an audience. Colour schemes run to blue because it's trustworthy, but not yellow because it's too childish, and definitely include a slim black font because it's sophisticated. Despite everyone's claims to looking to substance, let's face it – we all judge a book by its cover and this is why web design has become a paramount part of developing a business. But we are stuck doing everything the old way, pouring money into making our websites look great, despite it lacking content?  Read more
Why White (Papers) are the New Black in Legal Content
Our New Office Assistant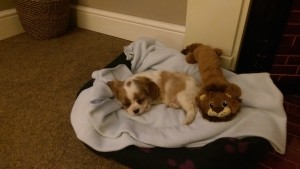 Want To Know More About The Legal Copywriting Company?
Read this interview with The Legal Copywriting Company's Founder and Director, Corinne McKenna read more
The Legal Copywriting Company is Here
Finally, a copywriter just for legal professionals.   Due to the rapid growth in business McKenna Legal Copywriting has formed as a limited company and is now trading as The Legal Copywriting Company. Founded in January 2014, The Legal Copywriting Company is…
Despite telling my clients that they need to blog at least once a week to improve and retain their rankings on Google, I have not posted anything on my own blog for nearly a month.  The reason?  Look below read more
Creating Your Brand – Is Your Legal Content Targeting Your 'Other" Clients?
Anyone who has a vague idea about SEO knows that, at the moment, content is king.  Since the Panda and Penguin algorithm updates, website builders and business owners have had to invest heavily in creating high-quality, informative content for their customers in order to have a chance of gaining and keeping a decent ranking in Google.
Stop the press – Google announced yesterday that it has released two new web spam updates, Panda 4 and Payday Loan 2.0.  Read more here.
However, as well as writing first-class content for your paying clients, law firms need to ensure that they create copy for their 'other' clients.  And who are these 'other' clients you may ask? Read more
Your Copywriter Should Become Your Law Firm's Voice – Make Them Legal
There are many fantastically talented copywriters around the world.  Some have many years' experience and can easily clear a six-figure income year on year.  So what is so special about hiring a legal copywriter to write legal content?  Surely any good copywriter can do it, right? Yes and no read more
Tricks Designed To Make Your Legal Blogs Engage The Average Reader
Around 80% of my work is writing regular blogs for law firms.  I am usually engaged by a firm to write one or two blogs per week, and it takes around four hours to research and create a 600-800 word post.  As you can imagine, most law firms to not have someone in-house who can dedicate this sort of time to blogging, even though firms that are posting regular blogs are finding they add tremendous value to their website and attract new clients. However, there is another reason, aside from lack of time, that legal professionals ask me to write their content Read more
Life Beyond Facebook and Twitter…Law Firms Need To Embrace Google+
Google+ is a fantastic, free way to increase your SEO (search engine optimisation) and click-through rates, expand your presence on Google and make your law firm's website stand out from the crowd.  Unfortunately, the legal profession has yet to fully embrace it, mainly because it is seen as just another social media site, and even worse, another social media site which no one uses. So what is Google+?  Why is it so effective for SEO and click-through rates, and what can you do to enhance your law firm's presence on it? Read more

Why Law Firms Should Outsource Their Blog/Article Writing
Having excellent written communication skills is something most legal professionals are very proud of.  Much of the work a lawyer does involves writing, whether it be briefs, opinions or letters to clients.  So why should a law professional, who is likely to be a skilled author, outsource their own article or blog writing?  Read more
How The Legal Profession Can Harness The Power of Content Marketing
Content Marketing, in both its digital and traditional guises, has been around for several years and the time is right for the legal profession to start taking advantage of its un-tapped power to attract and retain new and existing clients.  Traditional avenues of advertising are increasingly losing their power. We can now skip through advertisements on television, people receive so much direct marketing in the post that it is usually binned without a second glance, and when was the last time you noticed a Google Ad when you were surfing the internet? So what exactly is Content Marketing and why has it become such an important and increasingly popular mechanism for various types of industries to connect with their customers in a way that they have not been able to do so previously? Read more
Seven Creative People With Law Degrees.
When it comes to writing, marketing and advertising, lawyers are often unfairly discriminated against because they are not thought of as "creative people".  In fact, lawyers have an unfortunate image of being serious, dry, and let's face it, a little boring. However, there are many creative geniuses who graduated with a law degree before re-focusing on their chosen creative fields and in this blog I am introducing seven of them, some of whom will probably surprise you.  Read more
Can you make a living as a writer?
This weeks blog is a little different from my usual posts.  Rather than concentrating on legal content marketing and copywriting I wanted to discuss writing.  More specifically, can you make a living from writing?  The reason I decided to venture away from my usual theme this week is because I have had two talented women ask me about getting into writing, and whether you can make a living from it. My answer is a resounding.. Read more
Five ways your law firm can use Pinterest.
It has been well reported that Pinterest is the fastest growing website of all time.  It has proven itself to be much more than a passing fad and law professionals need to start taking advantage of its influence and scope. Read more
Law professionals, content marketing and social media…making it happen.
Last week I read a wonderful article entitled 'Hard proof that content marketing works – a professional speaker case study'.  I found it an excellent article outlining how creating great content and putting it on your website regularly can directly impact on not only your websites' search engine ranking and visitors, but also converting those visitors into paying clients. So why isn't everyone doing it?  What are the most common barriers to content marketing and social media use and how can a small to medium size law firm overcome them?  Let's have a look at a few in detail.  Read more.
Social media and law firms – how to maximise your presence and attract new clients.
There are so many social media sites to be on these days that you could spend a large part of your working life managing and updating them, to the point where you don't actually get much productive work done!  Therefore it is essential to manage your social media presence effectively and efficiently. Ideally your social media marketing plan should aim to achieve the following outcomes: Read more
The legal brochure…still a winner.
The humble brochure.  It is so easy to think "why bother" in the age of websites, social media and content marketing.  Why spend money on a printed brochure when you have all the information your clients need on your website?  Read more
The content clients want to see on your law firm's website.
How are you using your law firm's website?  Do you just see it as a place clients come to to get telephone numbers and email addresses.  Or do you treat it as your 24/7 shop window by make it choc-full of relevant, useful content designed to help your clients understand the law and your firm's services better? Read more
Catchy Copywriting and the Rule of Three
Of the many rules for good writing, the "rule of three" is a simple but effective one. The rule of three and writing go together like Bonnie & Clyde, Cathy & Heathcliff, Scarlett & Rhett etc. etc. The rule is basic….the number three is the lowest figure that can be used to form patterns in our mind and the human mind enjoys thinking this way.  When things are grouped in threes we find them more pleasant and satisfying and we are more likely to absorb the message that is being communicated.  This is why many stories, nursery rhymes, and famous quotations that we remember contain an element of this persuasive and engaging concept read more
 Remember the WIFM (what's in it for me) in your copywriting.
WIFM.  What's in it for me?  There is no more important concept in sales….you have to be able to tell a potential buyer what they will gain by purchasing your product.  Yet this simple rule is forgotten time and time again.  We get so caught up in talking up features, not to mention talking up ourselves we forget that a potential customer cares about one thing and one thing only.  What's in it for them!  After spending over ten years in sales I have become pretty good at getting the WIFM across both verbally and in writing so keep reading and I will show you how you can too read more